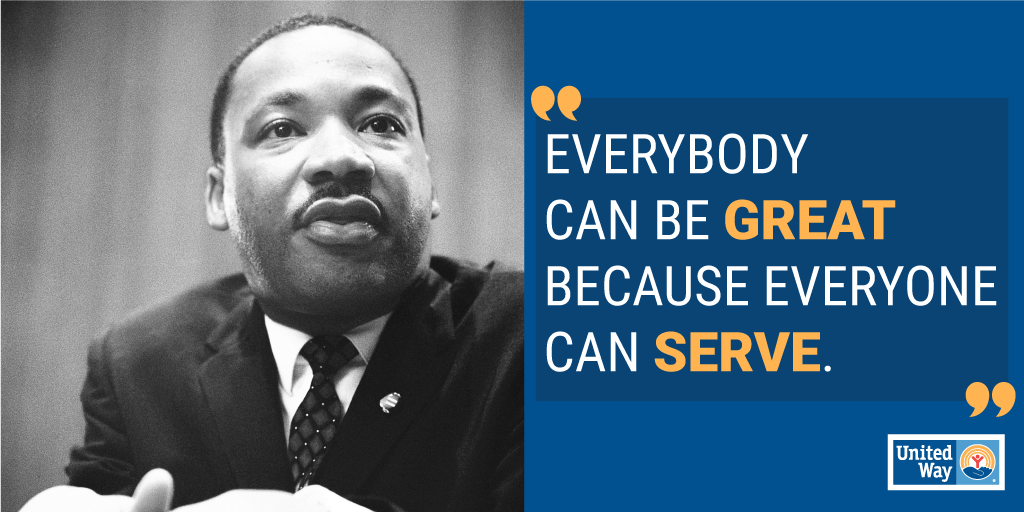 We honor and celebrate the legacy of Rev. Dr. Martin Luther King, Jr. and his commitment to service and community. This commitment is at the heart of United Way of Southern Maine's mission: to improve people's lives by mobilizing the caring power of community. Everyone has a part to play in building a more equitable community where we all have the opportunity to thrive. 
There are many ways to use your voice and talents to take action with United Way of Southern Maine.  
Life's most persistent and urgent question is: What are you doing for others? – Rev. Dr. Martin Luther King, Jr.
Volunteer 
Volunteering with UWSM can be a transformational opportunity to build stronger communities together. Share your time and talent as volunteer with these upcoming opportunities. 
Meal Program Volunteers with Maine Immigrant Rights Coalition (MIRC) 
MIRC, a United Way community partner, seeks volunteers to support their ongoing culturally appropriate food program supporting unhoused asylum seekers at a hotel in Saco. Sign up for an upcoming shift. 
Volunteer Reader Program 
Read with students at a local elementary school to help build critical reading skills and ensure that more kids get a strong start. Email volunteer@uwsme.org for more information.  
To learn more about other ongoing volunteer opportunities with UWSM, please visit VolunteerME. 
Advocate 
One of the first steps to creating community-wide change is staying informed and engaged on the complex issues that face our communities, our state, and our nation. United Way advocates for policies at the state-level that ensure children succeed in school, individuals live healthy lives, and everyone has the opportunity to achieve financial well-being.  
United Way of Southern Maine's Legislative Updates will keep you up to date on important legislative topics in Maine, including Advocacy Alerts on urgent issues. To sign up, visit our online sign up form or text UWSM to 52886 and follow the prompts.