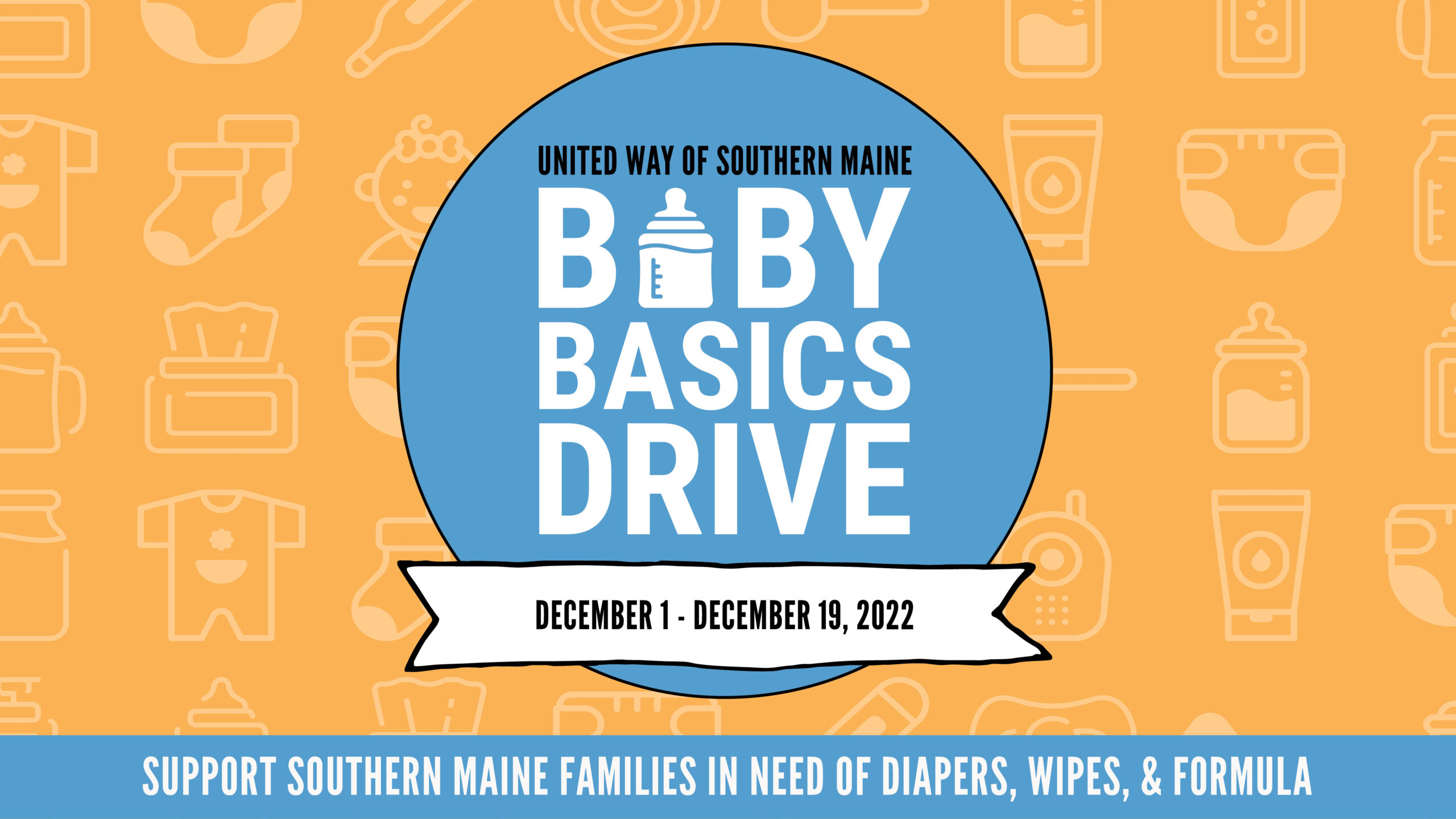 Southern Maine is facing a fast-growing emergency as more than 1000 individuals, including many asylum seekers, are on the verge of losing their housing. Since 2021, the federal Emergency Rental Assistance (ERA) Program has helped families and individuals in our community access much-needed temporary housing in hotels and shelters. As the ERA program ends, they are at risk of homelessness.
Local government and non-profit organizations are working quickly to find alternative housing options. On top of facing homelessness, families also face the daily struggle of addressing other basic needs, including buying essentials for infants and small children. Inflation has caused the cost of diapers, wipes, and formulas to rise, forcing many families to make difficult decisions.
HOW YOU CAN HELP 
To address our community's immediate needs, United Way of Southern Maine is hosting a Baby Basics Drive from December 1 to December 19 to benefit households with children experiencing or at risk of homelessness. Collected items will be distributed to local partners in Southern Maine such as the Maine Immigrants' Rights Coalition, City of Portland's Department of Health & Human Services, and others. You can help by:
Bringing wipes, diapers, and formula to the following drop-off locations:
Donating at uwsme.org/baby.
Thank you to Gorham Savings Bank and Saco and Biddeford Savings for acting as donation sites and to Hannaford Supermarkets for sponsoring this drive. 
UWSM's LONG-TERM EFFORTS TO END HOMELESSNESS
United Way of Southern Maine addresses homelessness now and into the future by securing critical funding and piloting innovative efforts to support people experiencing or at risk of homelessness. 
Critical Funding  
This year, UWSM and the Cumberland County Board for the Emergency Food and Shelter Program secured three grants totaling more than $4.6 million from the federal government to support people who are being temporarily housed in hotels throughout Cumberland County due to COVID and the lack of shelter and housing space.  
More than $4.6 million has been awarded to Catholic Charities Maine, City of Portland, Freeport Community Services, Hope Acts, Maine Association of New Americans, MaineHealth, Maine Immigrants' Rights Coalition, and Preble Street to provide services and support to approximately 400 families with 1,360 individuals temporarily housed in hotels and shelters in Greater Portland and Saco. These services include meal delivery, clothing, transportation, and translation. In addition to administrative support through fund distribution, UWSM provides ongoing technical assistance to these organizations as they navigate the challenges of coordinating large-scale services to this population.
Innovative Initiatives 
In 2021, MaineHousing launched a statewide strategy to redesign the state's approach to addressing homelessness. This includes Maine's partnership with Built for Zero, a movement to reach "functional zero" – a measurable end state where homelessness is both rare and brief. Maine is only the second state in the country to introduce the Built for Zero model statewide and the first in the country to invest in staff resources to support this work – providing the capacity needed to make meaningful progress. 
The statewide strategy also includes the creation of nine "hubs" to align services for those experiencing homelessness. UWSM hosts the Homeless Response Service Hub Coordinators that serve Cumberland County and the Mid Coast region. The coordinators track and coordinate system-wide efforts to reduce homelessness across the entire hub, ensuring the system of services is working effectively and efficiently. In addition, partners will use real-time data to support those experiencing homelessness and respond to emerging trends. 
Support this important work and other strategic approaches addressing the root causes of community issues by giving to United Way.