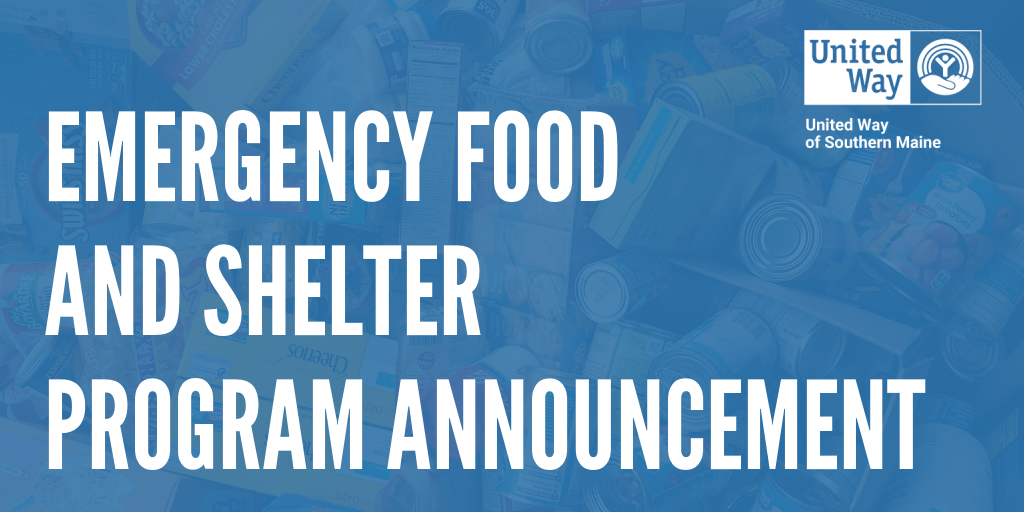 ( PORTLAND, Maine)  June 30, 2022 – United Way of Southern Maine (UWSM) and the Cumberland County Board for the Emergency Food and Shelter Program (EFSP) received notice from the EFSP National Board that UWSM will receive a second special funding award of $1,637,171 from EFSP (HR-22) to distribute to six organizations supporting individuals and families temporarily housed in hotels throughout Cumberland County due to COVID-19 protocols and the lack of shelter and housing space within the City of Portland. This award brings the total investment this spring and summer to $2,855,843.
Humanitarian Relief funds made available as part of the federal U.S. Department of Homeland Security Appropriations Act, 2022, will provide critical resources for Freeport Community Services, Hope Acts, Maine Association for New Americans, MaineHealth, Maine Immigrants' Rights Coalition, and Preble Street to provide services and support to approximately 400 families with 1,360 individuals temporarily housed in hotels and shelters throughout Cumberland County, including meal delivery, shelter, clothing, transportation, and translation.
UWSM will act as a fiscal agent for the Special Funding Request and will provide administrative support associated with processing EFSP funds.
About Administration of Emergency Food and Shelter Program (EFSP)
UWSM functions as the convening organization for Cumberland County and York County and provides the administrative support for EFSP's fund distribution through two separate Local Boards for the EFSP, which are responsible for making annual disbursement decisions among local emergency food and shelter programs in Cumberland County and York County that apply for funds.
At the federal level, distribution decisions are made by a National Board that is chaired by the Federal Emergency Management Agency and consists of representatives from American Red Cross, Catholic Charities USA, Council of Jewish Federations, National Council of Churches of Christ in the USA, The Salvation Army, and United Way Worldwide.