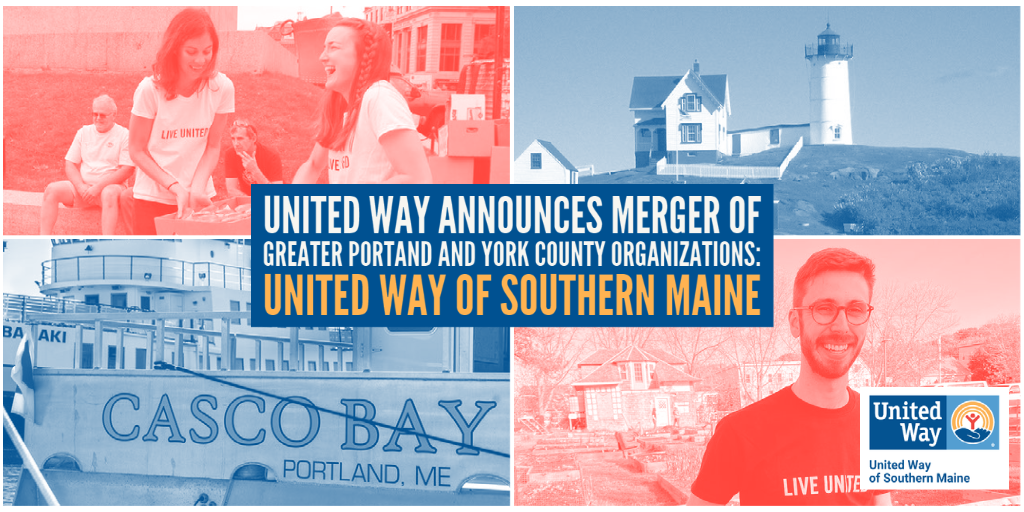 Strategic Consolidation Increases Community Impact in the Region 
(June 17, 2021) – Portland and Kennebunk, ME – United of Greater Portland and United Way of York County announced they will merge the two organizations to create United Way of Southern Maine. The merger, effective on July 1, follows extended discussions between the boards of Greater Portland and York County United Ways, which began late last year.  
"This decision allows United Way to maximize our stakeholder relationships and increase our operational efficiency, which we expect will result in more funds available for programs and initiatives that improve lives and strengthen communities in Southern Maine," said Liz Cotter Schlax President & CEO of United Way of Greater Portland. "This has been an incredibly thorough and thoughtful process, and we are excited to be moving forward."  
Southern Maine communities will benefit from a continued local presence and focus with the added capabilities and support that a merged organization brings. 
"The merged organization enables us to effectively leverage the combined experience, expertise, and knowledge of our teams and local partners," said Todd Cesca, Partner at Charter Oak Capital Management and United Way of York County Board Chair. "Together, we will drive greater impact, create a better understanding of community priorities, develop stronger relationships, and offer easier engagement with United Way throughout Southern Maine." Mr. Cesca will serve as Board Vice Chair of United Way of Southern Maine.
As internal operations are integrated, local community priorities will continue to be at the center of the work. For example, funding decisions based on local priorities of education, financial stability, and health. As well, United Way shall maintain two separate investment processes (one for our Cumberland County footprint, one for York County) for up to two community investment cycles.
"Our organizations have a long history of collaboration and shared common missions. We are thrilled that our partnership is further solidified today," said Diane Garofalo, in-coming Board Chair of United Way of Southern Maine.   
This fall United Way of Southern Maine will launch a unified campaign which will raise funds to support programs and strategic initiatives across Southern Maine. 
Garofalo emphasized that United Way will continue to invest monies raised in both York and Cumberland Counties. "We are looking forward to implementing agency-wide best practices and sharing resources while ensuring our programs, funded partner investments, and community investment work continues to make a difference at the local level." 
The change allows for a coordinated regional strategy that balances the varying needs of diverse local communities with addressing more effectively the common needs of all communities.  
"This year has shown us that the challenges facing our communities do not recognize city boundaries or county lines," said Brian Petrovek, current President and CEO of United Way of York County. "With this merger, we will instantly be able to more efficiently serve more people and have a greater impact which is always at the forefront of United Way's mission."  
Merger implementation efforts have already begun. Leaders from United Way of Greater Portland and York County will serve on the new United Way of Southern Maine Board and operating committees, ensuring local stakeholders and community involvement from businesses, organizations, and individuals in both markets. Current staff will continue to work from existing local offices in Portland and Kennebunk. Additionally, President and CEO of United Way of Greater Portland, Liz Cotter Schlax, will serve as the President & CEO of United Way of Southern Maine.
Petrovek will return to the hockey industry, and a career spanning five decades, with the Colorado Eagles. "We are so grateful to Brian for his leadership in guiding United Way of York County through an organizational transition, a pandemic, and a merger," said Cesca. "We wish him the best and thank him for his service to York County and United Way."