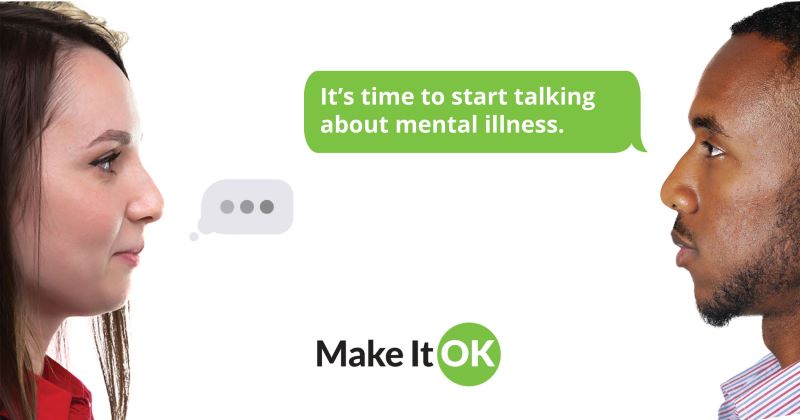 IDEXX and Make It OK
Millions of people are affected by mental illness each year. The Centers for Disease Control (CDC) reports that nearly 1 in 5 Americans, aged 18 and older, report having a mental illness, with 71% experiencing some sort of symptom of stress. According to the United Health Foundation's America Health Rankings, the percentage of adults in Maine who reported their mental health was not good 14 or more days in the past 30 days has risen from 11.6% in 2016 to 14.9% in 2019. Despite being so widespread, stigma and misconceptions around mental illness persist. Stigma can prevent individuals from acknowledging signs and seeking effective treatment options. There is tremendous opportunity to make our communities, workplaces, and schools more accommodating and supportive towards those suffering from mental illness. With 63% of Americans in the workforce, the workplace is an especially important place for intervention. IDEXX, a Cumberland County employer with international sales and operations, recognized this opportunity and took steps towards creating a mental health friendly workplace environment and culture.
Why Make it OK?
IDEXX decided to align with the Make It OK Campaign, a nationally recognized campaign to reduce the stigma of mental illnesses that was created in partnership with the National Alliance on Mental Illness (NAMI) Minnesota and their healthcare systems. While there are several mental health workplace campaigns, IDEXX ultimately chose Make It OK to guide their work because of its message and widely accessible resources. IDEXX was intent on starting a positive conversation and wanted to give employees the tools to know how to talk about mental health. Much of the guidance and materials are available for free on the website. IDEXX also liked that Make It OK made it possible to personalize and select the elements that worked best for their office environment and business culture. Make It OK staff were also available to conference with IDEXX staff during the implementation process.
What does Make It OK look like in practice? 
Since aligning with Make It OK, IDEXX has implemented several tools and recommendations into their workplace. From flyers and resources posted throughout the building with education and resources about mental health, to IDEXX intranet channels where employees can share their stories and challenges. IDEXX Human Resources department also worked with a licensed counselor to provide training for managers on mental health and supervising employees. Sarah Caron, the Wellbeing Program Manager at IDEXX, shared, " IDEXX has had 100 employees sign on to be champions of the Make It OK program. One of the ways we are tracking our employee's successful utilization of the program is increased usage of our Employee Assistance Program, which connects employees to a range of services and resources that assist with their mental and physical health. Additionally, we continue to discuss ways to build upon the program and increase supports for our staff."
Utilizing the Make It OK Toolkit and resources is one of the ways IDEXX is creating a mental health-friendly workplace, a featured best practice in the Thrive2027 Thriving Workplace Policies. For more information on Make It OK Campaign and its resources, please their website at makeitok.org. For more ideas on workplace policies and best practices that help advance Thrive2027 while also benefiting your organization and your employee, visit the Thriving Workplace Policies toolkit located here.