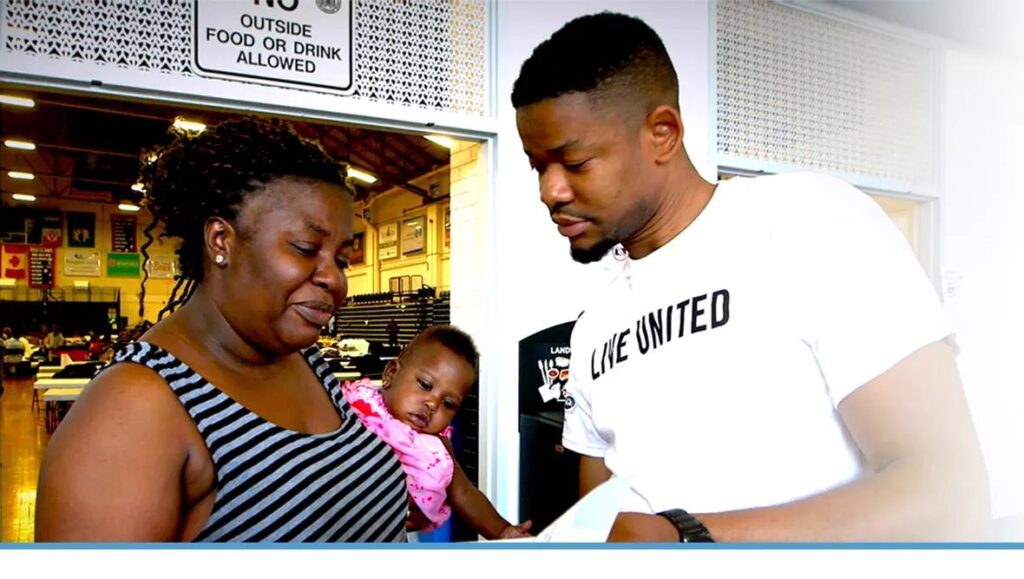 This Community Helped Me, Now It's My Turn
Michael Shows That Kindness Comes Full Circle
When Michael thinks of the Southern Maine community, one word comes to mind: generosity.
"Ever since I was younger, my family and my community has taught me that in life it's always good to help other people," Michael says. "I was also helped by a community once. This community helped me build a career."
Now Michael is returning the favor by helping asylum seekers, many of whom have backgrounds similar to his, adjust to life in Maine.
A United Community: 2,000 Volunteers Offer Help
On June 9, 2019, busloads of asylum seekers, primarily from the African countries of Angola and the Democratic Republic of Congo, began arriving in Portland. In the first week, 170 asylum seekers arrived in the city. Two months later that number more than doubled to 448 individuals seeking shelter.
As the Portland Expo was converted to a temporary shelter, community members leaned in with an outpouring of donations and offers to volunteer. The City of Portland was overwhelmed by the number of people interested in volunteering and needed help.
City officials asked United Way of Southern Maine, based on its expertise in mobilizing the community, to manage the volunteer requests, including providing background checks on every volunteer. By the end of July, nearly 2,000 people submitted a volunteer application.
Michael was one of those hand-raisers. He went to the Portland Expo as the first wave of asylum seekers was arriving. When he saw the sea of green cots and tired faces in the temporary shelter, he knew he had to help.
"I decided to volunteer and help out wherever I could. I tried to find out who I should reach out to in order to do that. I was referred to United Way…Everything started from there," Michael says.
Giving Back What He Received
When Michael thinks about the people who came to Portland seeking asylum, he feels a special connection. He understands what it is like to leave a country where people are repressed – and what it's like to be misunderstood after arriving somewhere new.
Michael was raised in the Congo, a place he said often restricts freedom of speech, especially when it comes to speaking out against corruption in the country. "I got in trouble fighting for my rights, to the point of almost losing my life there," he explains.
Michael was determined to leave the country and find a place that respected what he had to say. He arrived in the United States in 2013 before moving north to Maine. Immediately, he was struck by the value Americans place on freedom of expression.
"The way the country has the freedom to speak your mind and actually be valued for who you are and not what you have, really surprised me in the U.S.," Michael says.
Finding His Voice
When Michael arrived in Maine six years ago, he was met with open arms.
"The way people are friendly in Maine surprised me. They are open-minded, willing to welcome strangers, refugees and asylum seekers."
But despite the warm welcome, life was hard.
Michael struggled to speak English. He was raised speaking French and Lingala and learning this new language was difficult. The language barrier kept him from connecting with people in Maine and from fully participating in the community in a meaningful way.
"I had a hard time to show my potential and to express myself…A lot of people I met when I first came [here] always thought that I was stupid because I couldn't speak their language, while it was just a language barrier."
But Michael persisted, working with interpreters to improve his skills. His hard work paid off. Michael speaks English fluently and today holds two jobs – one as a French and Lingala interpreter at Catholic Charities and the other as a French chat specialist with Apple.
Michael is proud to give back to his community through his employer's annual United Way Campaign.
Paying Generosity Forward
Michael's experience overcoming a language barrier in order to be a connected part of this community drives his desire to volunteer with today's asylum seekers. He volunteers as often as he can using his skills in French, Lingala and English to help the newcomers have a voice.
"Among all those immigrants you will see doctors, teachers, electricians, plumbers, carpenters, IT people, etc. They are just having a hard time to express themselves and explain what they are able to do because of the language barrier," says Michael.
Shelter Closed August 15
Michael's volunteer role recently came to an end, as the shelter closed on August 15, 2019. Some of the asylum seekers have moved on to other cities but many are settling into more permanent homes in Southern Maine.
As the newcomers settle into their new home, Michael encourages everyone to see these new community members as a positive.
"Most immigrants work and have had a chance to establish themselves here, pay their taxes," he says. "People who are seeking asylum today are not here to take advantage of the benefits here in the U.S. Instead, they are seeking the opportunity to give and contribute what they have to offer. If [asylum seekers] had the opportunity in their country to give and to be valued, they wouldn't be here."
Thank you, Michael, for making Southern Maine your home and adding to our rich tradition of generosity. We appreciate your contributions to our community!