At a recent event, United Way of Greater Portland's Women United announced an investment of $150,415 into the community.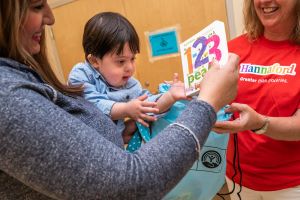 Of the investment, $107,415 will go to the continued support of Project WIN (Women In Neighborhood), a two-generation approach to supporting single mothers and their children in Portland's East Bayside Neighborhood, $25,000 was awarded for summer camp experiences for the Project WIN children, and $18,000 was awarded for a scholarship fund for Project WIN mothers.
"This investment is the culmination of a lot of hard work by thoughtful and committed community leaders," said Stacey Ryan, Investment Committee Co-Chair and Civic Leader. "It is very gratifying to invest in our community and support our shared vision to support single mothers with children."
Together, Women United and Project WIN are putting into action the three pillars of a two-gen approach: early childhood education, family economic supports, and family development and social capital. Project WIN family coaches work with a cohort of single mothers to help them pursue employment skills and education goals to improve their own economic security and stability, while simultaneously ensuring their children are on a path from the earliest age to engage in lifelong learning.
"The growth and impact we've already seen is phenomenal," said Kim Gray, Investment Committee Member and Vice President Center Store CMP, Hannaford Supermarkets . "These investments have the power to alter the course of these families' lives and improve the fabric of our community."
Since its launch in 2017, Women United has invested nearly $360,000 to advance single moms and their children in East Bayside.
About Women United
Women United, an individual giving group of United Way of Greater Portland, is an influential force for the advancement of low-income, single mothers and their children in Greater Portland and is comprised of women business, philanthropic and volunteer leaders. Through investment, volunteerism, and advocacy, Women United leads critical work in support of the three tenets of two-generation programming: Early Childhood Education (ages 0-8); Family Economic Supports; and Family Development and Social Capital. Women United is aligned with Thrive2027 and leverages United Way of Greater Portland's rich history, resources, knowledge, and relationships to achieve results.